Last week, R (3) was looking over my shoulder as I scrolled through Pinterest and he saw my pin for hosting a messy playdate from the lovely Crystal at Growing a Jeweled Rose. Messy play is one thing, I've never been shy about getting messy around here, but Crystal is one brave lady to host an entire play date based on messy play! I take my hat off to her. Anyway, the picture R saw was of a sensory tub filled with blue coloured spagetti. "That looks like fun! Let's do that!" (Honestly, I think R enjoys Pinterest even more than I do.)
This would have to be the cheapest sensory tub I've ever created for R. (Well, apart from the tubs we do which are filled with water, that is.) All I outlayed was 59 cents for the cheapest packet of spagetti I could find. The other components were items I already had in the cupboard.
Here's what we created! Fun, right?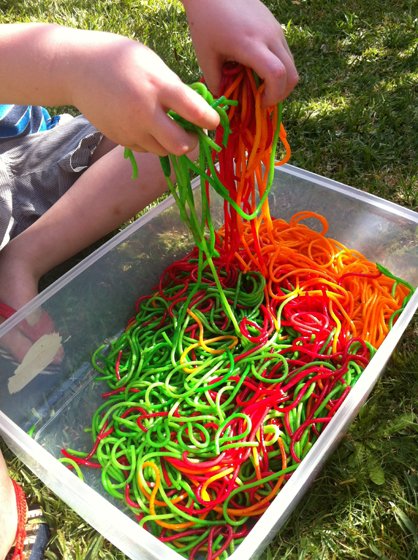 So here's how we made it. So quick and easy!
You'll need:
Food clouring (I used both gel and liquid food colouring. Both worked equally well)
About 1 tablespoon of cooking oil.
1 packet of spaghetti – cooked and divided into separate containers (one container for each color you'll be using)
How to make colored spaghetti:
Divide the cooked spaghetti into separate containers – one container for each colour that you are making.
Add a few drops of food coloring to each container and mix.
Add a little cooking oil to the colored spaghetti to stop it from becoming too sticky.
That's it! You're done!
As usual, I involved R in the process of making this tub. He really enjoyed selecting the colors, mixing them and then putting it all together into the tub.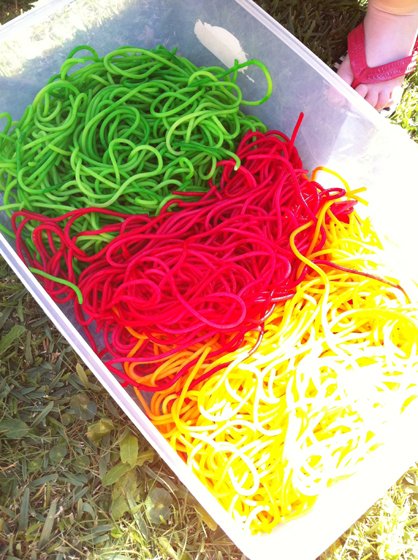 Here is the final product. It's a good thing we were both wearing our sunglasses! Insanely bright…..
I gave R some cooking utensils to explore with because I knew he'd find them fun and I wanted to include some fine motor skills development. He used the tongs to move the spagetti from the tub into the ice cream containers that we had used for mixing in the colours.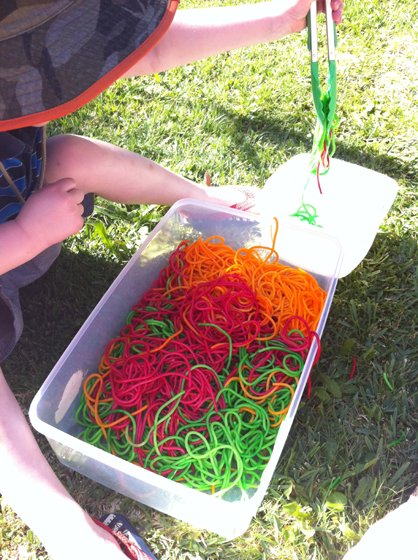 There was a hole in the centre of one of the large plastic spoons and R enjoyed threading strands of spagetti through the hole. Great fine motor skills development! I always find it interesting when I look back at photos like this. I notice that R often does these types of fine motor exercises with his left hand but whenever he draws or paints, it is always with his right hand.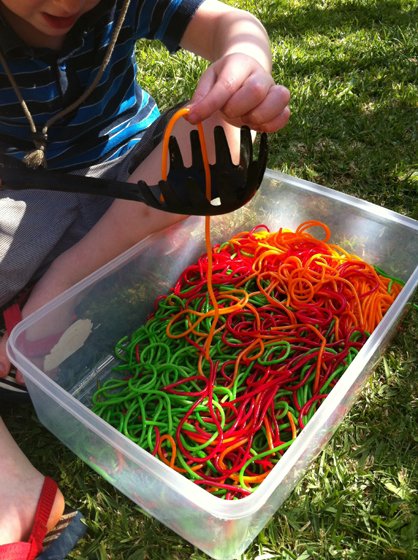 Surprisingly, R wasn't that keen to dig his hands into the spagetti. He usually loves diving right in. I don't think he was bothered by the slimy spagetti at all, I think he was just really keen to use the "tools" that I'd set out for him.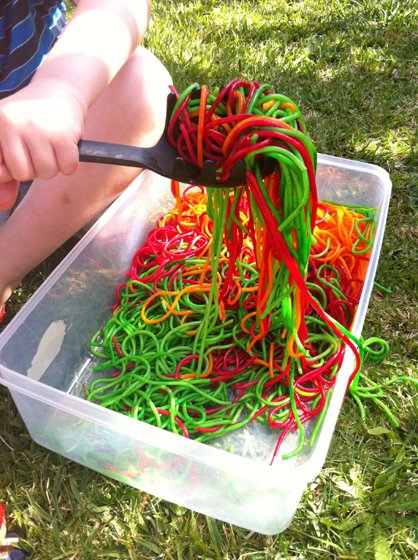 He did eventually stick his hands in and try it out. Such a fun, messy, sensory experience!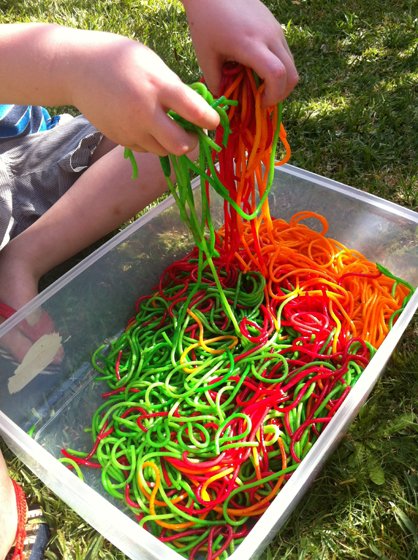 R engaged in imaginative play when he said that this was his restaurant and he was serving prawns and fish. The ice-cream containers became the serving dishes, and he served me bowl after bowl of delicious seafood!
After about 30 minutes of play, R's grew tired of the spagetti and extended his imaginative scenario of the seafood restaurant into the rest of the garden. He gathered leaves, grass and flower petals as "ingredients" for his dishes. He then returned to the spagetti and served me a spagetti salad. The green spagetti was lettuce, the red was tomato and the orange was cheese!

This play experience:
developed creativity and indepence. (R chose the activity, decided on the colours, and was actively involved in putting it together)
developed fine motor skills
provided an opportunity for imaginative play
was a great sensory activity
was FUN!