We love playdough, but until now, we'd never made our own, so we took the play dough pledge and gave it a try. I'm so glad we did! This was SO SOFT and wonderful to play with and it was VERY quick to make. I whipped up three batches in around 30 minutes and that included clean up time. This was seriously the BEST play dough we have ever used!
I followed this home made play dough recipe that I found at How Does She. I've also included links at the end of this post for many more recipes from Nurturestore, The Imagination Tree and Sunhats and Wellie Boots including a FREE play dough e-book from Nurturestore. I can't wait to try them all! Seriously, I've been inspired!
You will need:
1 cup of plain flour
1 cup of water
1/4 cup table salt
1 tablespoon of cooking oil
2 teaspoons of cream of tartar
food colouring (I found we needed between 6 – 8 drops to achieve good intensity of colour)
We also added coconut and lime essence but this is optional
This was so simple to make, it really was just a matter of pour and mix. That's my kind of recipe! Even R (3) was able to help out, and his declarations of "This is so much fun!" made it all worthwhile.
Steps:
To begin, simply measure your ingredients…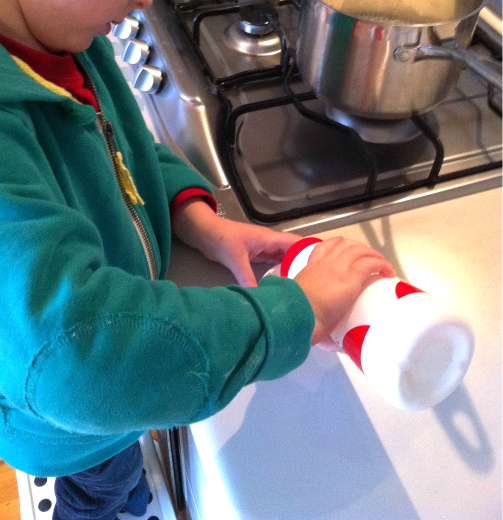 Pour everything into a saucepan….
and stir.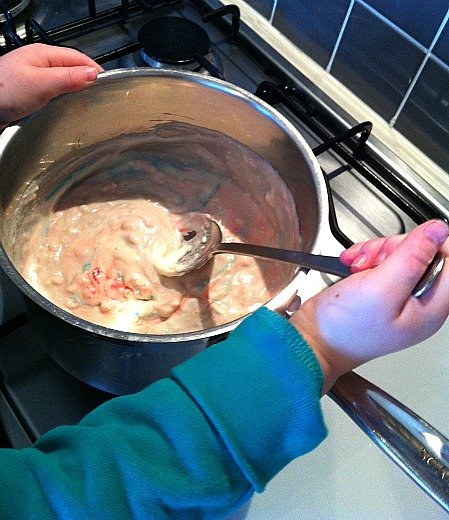 At this point, the stove was NOT turned one, which is why R is holding the side of the saucepan in the picture above. You want to stir all of the ingredients together BEFORE you turn on the heat. When the ingredients are combined, cook the mixture over a medium heat, stirring constantly. It will become smooth and runny at first….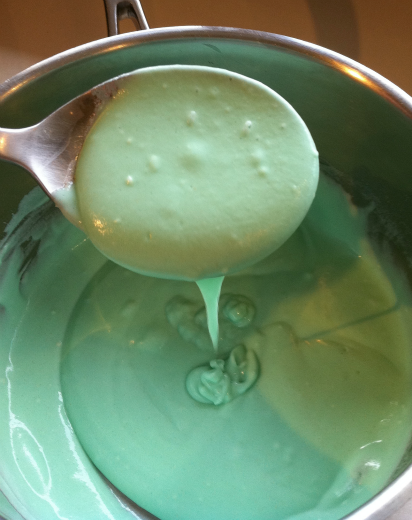 Within a couple of minutes, the mixture will form a ball and stick to itself, and then it's done!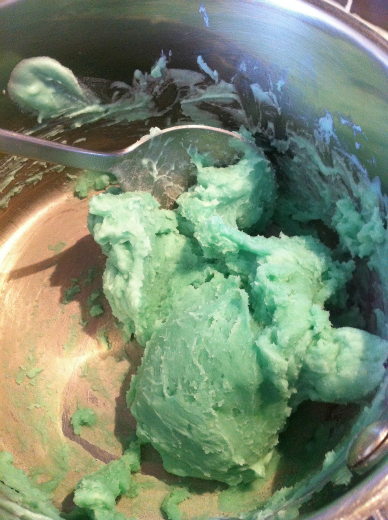 Simply transfer it to your counter top to cool. Once it has cooled down, knead the mixture to make it lovely and pliable and that's it! Beautiful smooth homemade playdough!
Tips And Tricks:
here's Some Helpful Pointers I Discovered When I Made This Recipe
The cream of tartar does NOT smell good at all, but this is easily fixed! We simply added some coconut essence to our purple playdough, and lime essence to both the green and orange batch. It smelt divine! I added this after the playdough had already been cooked and it was completely fine. Next time I would add this at the same time as all of the other ingredients.
Try to mix all of the ingredients as thoroughly as possible before heating it up on the stove. The smoother you can make the mixture before heating it up the better. Enlist the help of the kids. They'll love it!
Be aware that this cooks quickly! Don't take your eyes off it and do stir continuously.
Scrape down the sides of your saucepan while you are stirring – this will prevent build-up of cooked on gluey flour/water mixture and will make the clean up of your saucepan much easier.
When you are leaving the play dough to cool before kneading it, try spreading it out a little rather than leaving it in a ball. The play dough will hold its heat inside the ball which will not be fun when you try to knead it and you think it has cooled down! Spreading it out will also help it to cool more quickly.